Fotografare Magazine February 2016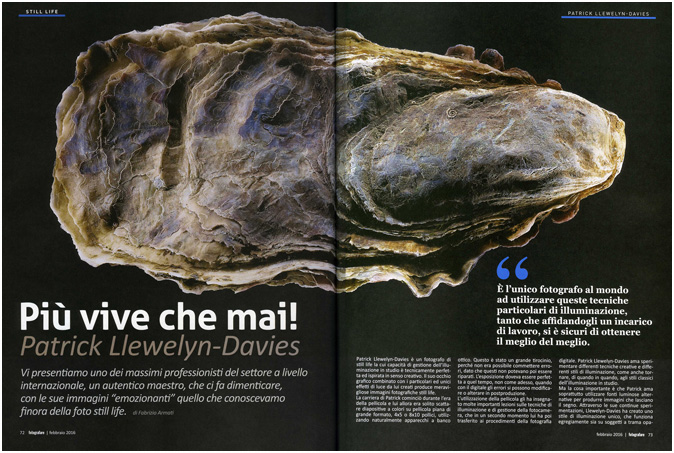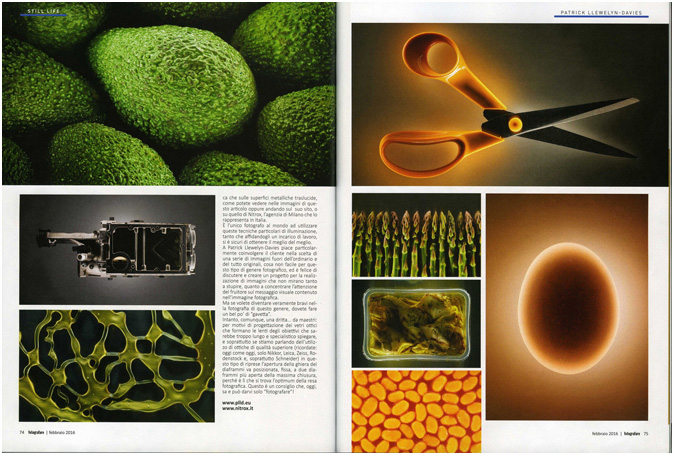 More alive than ever!
The prestigious and highly respected Italian photographic magazine "Fotografare" has featured the agency Nitrox and Patrick's work in the February 2016 edition. Please find below a translation of the article from Italian to English:
More alive than ever! Patrick Llewelyn-Davies
We introduce you to one of the greatest experts of still life photography internationally, a true master who makes us forget, with his "exciting" images what we knew until now about still life photography. By Fabrizio Armati
Patrick Llewelyn-Davies is a still life photographer whose skill using studio lighting is technically perfect and creatively inspired. His "graphic" eye combined with his special and unique lighting effects create wonderful photographic still life images. Patrick's career began during the era of film and he used to shoot using large format plate cameras on to 4"x5" and10"x8" colour transparency film, using of course traditional equipment.
This was a great internship/apprenticeship as it was not possible to make errors, since these could not then be easily retouched. At that time the exposure had to be perfect, not like now with digital photography where errors can be easily edited or altered in post-production. The use of film taught him many important lessons on the techniques of lighting and how to use the camera, later he then transferred this knowledge to digital photography.
Patrick Llewelyn-Davies loves to experiment with many different creative techniques and lighting styles, as well as going back (every now and then) to classical styles of lighting in the studio. But the important thing is that Patrick above all loves to use alternative light sources to produce images that leave a mark. Through his constant experimentation, Llewelyn-Davies has created a unique style of lighting, which works very well (excellently) on both subjects with a matt texture as well as on reflective metal surfaces, as you can see here in the images published in this article or by going to his website, or to the Nitrox website, the agency in Milan that represent him in Italy.
He is the only photographer in the world to use these special techniques of lighting, so by commissioning him for a job you are assured to get the best of the best. Patrick especially likes to involve the client in a selection of images that are out of the ordinary and completely original, which is not easy for this type of photographic genre. (Furthermore) he is happy to discuss and create a project for the realization of images not aimed to just to impress but concentrate the attention of the user on the visual message contained in the photographic image.
But if you want to become really good at this type of (still life) photography, you have to rise through the ranks.
Meanwhile some friendly advice from the Masters/Experts: for reasons of design planning of the optical lenses, which would be too long and technical to explain and above all if we are talking about the use of superior optical quality lens (remember: nowdays, just Nikkor, Leica, Zeiss, Rodenstock and above all Schneider) in this type of shot you reach the best quality at two stops more than the maximum closure.
This is an advice that knows and can give you just "Fotografare".